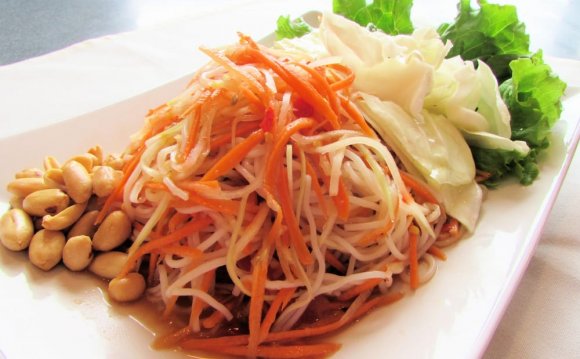 I had been meaning to update this dish for a while. When I show Intro to Sichuan cooking courses, we concentrate on simple and easy-to-love stir-fry meals eg Kung Pao Chicken, Mapo Tofu, and Dan Dan Noodles. But anyone who has spent plenty of time in great Sichuan restaurants is likely to eventually take to a dish detailed as Chongqing chicken, Sichuan chicken with chilis, wok-fried chicken, or some similar names. (Lazi jiding may be the title in Mandarin.) And inevitably in most course, when I go around the room throughout the intro ice-breaker and now have pupils list a common Sichuan dish of all time, one or two will mention this meal.
When a student in a personal class I recently taught required we run this dish, it reminded me of just how long it is often since I managed to get yourself. Therefore I made a decision to upgrade this, which makes it additional crunchy using the method we developed for dishes like General Tso's Chicken and Chinese Lemon Chicken during my cookbook.
Lazi jiding (辣子鸡丁) is similar to a far more sophisticated form of kung pao chicken. It really is smokier, spicier (plenty spicier if you slice up the chilis), and only a little more complex with its planning. (the way in which I allow it to be is much more like shallow-frying. I personally use about 3 glasses of oil, and dredge the chicken in a cornstarch-salt-pepper combination beforehand.) Few deep-fried chicken entrees are enveloped by these types of a succulent tongue-tingling sauce.
Provide this a-try, especially if you've currently attempted your hand at some of the more basic Sichuan meals and want to within the ante!
________________________________________________________
Hot Wok-Fried Chicken with Chilis (Chongqing Chicken)
Serves 4
1 pound chicken breast, cut into 1-inch cubes
1 1/2 cups cornstarch
2 teaspoons salt
1 teaspoon freshly ground black pepper
3 glasses peanut or vegetable oil, plus 1 tablespoon for stir-frying
8 to 10 dried out purple chilis
3 garlic cloves, minced
1 leek, white part only, thinly cut
1 little piece ginger, minced
Marinade:
2 tablespoons soy sauce
2 tablespoons Chinese rice wine or dry sherry
2 egg whites
Sauce:
2 tablespoons chili garlic sauce
1 tablespoon soy sauce
1 tablespoon chicken stock or liquid
1 teaspoon Chinese black vinegar, or substitute a good-quality balsamic vinegar
1 teaspoon cornstarch
1 tsp ground Sichuan pepper
Prepare the marinade: In a large dish, combine the soy sauce, rice wine, and egg whites. Coat the chicken aided by the marinade combination and allow remain for 10 minutes.
Blend together the components the sauce: chili garlic sauce, soy sauce, chicken stock or water, Chinese black colored vinegar, cornstarch, and Sichuan pepper. Set-aside.
In a large bowl or dish, combine together the cornstarch, salt, and pepper. Dredge the chicken in cornstarch combination and get rid of the excess cornstarch.
Heat the 3 cups of peanut or veggie oil within wok until it registers 350°F on an instant-read oil thermometer. In a few batches, include 1st batch of chicken cubes and fry until golden brown on the outside and prepared through, about 4 to five full minutes. Eliminate the chicken with a slotted spoon and strain in writing towels. Repeat with the rest associated with chicken.
Drain the oil into a heatproof container and save for discarding. Wipe the wok with a paper bath towel to get rid of any brown bits, but don't wash.
Reheat the wok or skillet over medium-high heat. Add another 1 tablespoon of oil and swirl to coat the bottom and edges. Add the dried chilis towards wok and and stir-fry until just they start to blister, about 30 to 60 seconds. Include the leeks, garlic, and ginger and stir-fry for just two moments. Stir in sauce mixture and simmer until a little thickened, about 1 minute. Include the fried chicken, toss to combine, and take away from temperature. Serve immediately.
Source: appetiteforchina.com
Share this Post