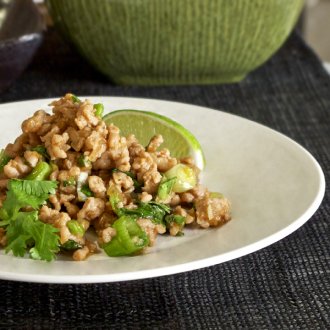 Fish sauce, gochujang, sriracha and soy sauce are punchy, delicious ingredients that impart an unreal depth of taste to whatever you're making for supper. Luckily, within global age, all of them are quite easy to trace down at the local grocery store. And what is simpler to discover during the shop than chicken? This lean and savory protein digests whatever flavor profile you toss at it, all while lending its own familiar and comforting flavor and texture. These five easy and delectable Asian chicken recipes have your taste-buds believing you're at a food stall in certain far-away, bucolic destination - but will only require a visit towards regional marketplace.
The pungent, savory and clean notes with this floor chicken meal flavor like a lunch-stop at an industry in Bangkok on a 100 degree-day. Cilantro and lime bring an herbaceous, citrusy brightness to the preferred meal. Provide with a side of steamed rice. Optional: Add a fried egg over the top - or two Thai bird chilis for fire.
Complete Preparing Time: 17 Minutes
This is morning meal in Vietnam - but tastes great when of this time or night. An extra degree of flavor arises from using roasted chicken-meat. Yep - for this dish, a store bought roasted chicken is totally needed and shaves off a lot of prep time while adding smokiness and intensity into broth.
Total Cooking Time: 20 Minutes
Got fifteen minutes? You then've got plenty of time to create a flavorful chicken fried rice that tastes so much more savory and complex compared to the minimal work would lead you to believe.
the application of powdered chicken stock supercharges this dish and helps it be taste as you're at a lunch counter in Shibuya.
Total Preparing Time: 13 Minutes
GET THE DISH

It really is snowing outdoors and a-trip to BonChon in K-Town may be out of issue? Don't be concerned - the gochujang, honey, soy sauce, garlic and ginger used in this marinade offers your needed fix of spicy/salty/sweet. And baking the wings, apart from being healthiest, will keep you from starting a nasty grease fire in the home!
Complete Preparing Time: 30 Minutes
This is Filipino convenience meals. a thick, garlicky rice stew with scallions, ginger and tons of chicken can certainly make any winter's eve feel just like a 95 degree day in Manila. The heartiness of this porridge is brightened and boosted by seafood sauce and lemon liquid, served on the side.
Source: www.huffingtonpost.com
Share this Post